"Lonnie's metaphors sink into the soul like a poet's words in most of his melodies."

– Mia Jennings, Blues On Stage
Lonnie Knight was a consummate songwriter, performer and sought after session player. He released over a dozen recordings of his own work throughout his career and enhanced projects as a producer and/or player for countless musicians.
Knight's CDs are available on this site, SoundCloud, Apple Music and many other physical and virtual locations throughout the world. His early albums, Family in the Wind and Song for a City Mouse, have been remastered and released on CD in Asia, and his entire catalog of material with Jokers Wild has been remastered and released on CD and vinyl in Europe.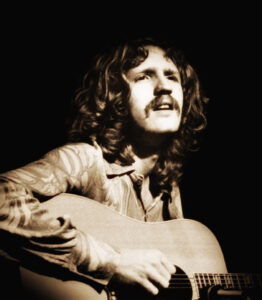 Knight first picked up the guitar at the age of 12 and discovered a true passion and natural affinity as a musician. Playing professionally while still in high school, his guitar and vocal abilities were showcased while performing with several Minneapolis favorites including The Castaways and the Rave-Ons. As a much sought after musician, Knight also performed with City Mouse, Mojo Buford and Nashville favorite, Michael Johnson. It was during this time that Knight first penned his own songs, providing a vehicle to combine his love of poetry and music. 
In 1967, Knight joined the acclaimed Jokers Wild, releasing three singles between 1967 and 1969. Following his band stints, Knight stretched his musical wings as a soloist, touring nationally on the Bitter End College Coffeehouse circuit.
Twin Cities producer George Hanson (Leo Kottke, Art Resnick, Robin & Linda Williams) recognized Knight's talent and produced his first two albums, Family in the Wind (1974) and Song for a City Mouse (1975). The '70s also found Knight working as a highly in-demand studio musician at Minneapolis' Sound 80 Recording Studio. While at Sound 80, Knight released two volumes of Guitar Instant Production Music under his own name.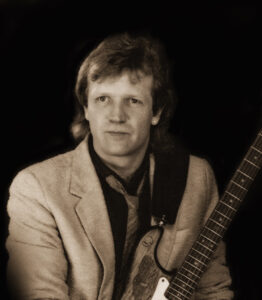 In the 1980s, Knight teamed up with acclaimed songwriter Mark Henley and co-founded the Knight-Henley Band. In addition to their busy schedule with the band, they became staff songwriters, producers and session players for Wrensong Publishing based out of Nashville. After the dissolution of the Knight-Henley band, Knight co-founded local favorite Wild Horses, which was recognized by the Minnesota Music Awards as the Best New Band of 1988. During this time he also lent his talents to the Nielsen-White Band; they were inducted into the Mid-American Hall of Fame in 2010 for their "service to the music, recording and entertainment industry".
During the 1990s, Knight joined the famed Hoopsnakes, founded by renowned blues artist Bruce McCabe. In the latter part of the decade, Aquarium Records signed Knight as an artist, releasing two CDs, Big Shoes (1999) and Cain's Blood (2001). In addition to producing and performing on these CDs, Knight designed the album art for both releases.
In 1988, Knight founded Mosquito Shoals Records, dedicated to providing affordable, quality recording for emerging and established artists.
As the owner of Mosquito Shoals Records, Knight returned to his acoustic roots in the 2000s, releasing Better Days (2005), followed by I Wrote My Name On You (2007) and December (2012) under his own label.  So We Jump was released in 2010 and his last album, Portals, was released in November, 2015. Knight also continued to work as both a session player and producer for area artists' recordings.
In 2013, Knight toured Japan both as a solo artist and backing guitarist for Don Nix. From 2009-2016, he was a featured member of the Salute to the Music of Bob Dylan ensemble that performed two benefit concerts each summer for Guitars for Vets.
Knight was a tireless and joyful musician—writing, producing and performing until two weeks before his death in 2017. His loyal and enthusiastic fans consistently turned out for his solo gigs, his duo with bassist Reid Papke, his acoustic quartet Mosquito Shoals and regular performances with blues band, Smokin' Section.